Dear Brothers and Sisters,
We fought and risked our lives for an America that is hard to find any longer. Some people have given up on America and yet others are fighting to grab it back from the banksters. One such vet is Bruce Gorcyca an honorably discharged veteran who enlisted during the Vietnam War. For his efforts to expose government drug smuggling and money laundering, he and his family have been threated and shot at for over a decade. He went to Canada where he thought he would be safe after federal agents stole his book manuscripts at gunpoint (no warrants - plenty of witnesses). Here's what happened...
http://whyunclesamhatesbruce.blogspot.com
We have a new war to fight friends. It is not against any foreign enemy but the greedy, selfish, elite, and arrogant Wall Street mob that now controls Washington with the billions of dollars of drug moneys they wash and then funnel into campaign accounts. Why do you think the Supreme Court allowed that ridiculous law that does not required disclosure of funding sources of political candidates? Bruce worked inside one of the companies laundering the monies for these people and then became an FBI informant. But the Department of Justice took over the case and made sure the honest FBI agent was transferred from Miami to New Orleans. The company doing the money laundering was allowed to continue for four more years until the Miami Herald and Toronto Star reported that the regular non-government investors lost $87 million (Canadians lost $43 million) Here is the Toronto Star article:
http://www.investorvoice.ca/PI/229.html
But here is what the Toronto Star and Miami Herald did not dare to report:
https://americanfinancialgroupfraud.wor ... is-harper/
Bruce was determined to tell his story to all of us. But he was always denied the opportunity because of constant government persecution and death threats. 5 of his associates including two friends were murdered. So he sought asylum in Canada maybe to finish writing his book? But according to accounts at other forums, two days after he visited the Toronto office of Amnesty International, his family home in Canada (his wife and kids are Canadian citizens) was stormed by a swat team headed by an American agent. But the arrest was made, get this... by Immigration Canada! Why? Because Immigration "detainees" do not have many rights and Bruce was held for 10.5 months in maximum security detention with any charges or indictments filed against him in any country!
Then the evil really kicked in and the U.S. filed a false extradition claim with Canada since Bruce refused to return to America and "cooperate" without a written guarantee of 24/7 protection for him and his family. According to an affidavit of Toronto lawyer Marshal Drukarsh, verbal assurances were given but agents refused to put them in writing with a signature. How do we know the extradition was fake?
Why Bruce Gorcyca's Extradition Was Fake & Illegal:
Legitimate Extraditions:
• Seek people that are indicted for a crime(s)
• Provide "Charging Documents" as required by law/treaty
• Identify names and number of victims
• Identify the dollar amount of the crime (if a fraud)
• Allow the person sought to testify on their own behalf
Bruce Gorcyca's Extradition:
• Not indicted for any crime in any country
• No victims every identified
• No dollar amount of the alleged stock fraud
• Was not allowed to speak to judge or allowed to testify
• No charging document were produced at hearing and were later fabricated 5 minutes before the Appeal proceeding began so they could not be verified or challenged 2 years later.
Note: When Bruce was finally returned to the USA 8 years later he was not arraigned nor indicted because "no file could be located on him". He was offered "time served" if he pleaded guilty. He refused. Judge Jack Weinstein dismissed his "charges" on December 17, 2007

Unanswered Questions:

• Why was Bruce, an American citizen married to a Canadian citizen with Canadian children arrested by immigration Canada and held for 10.5 months when he had no charges filed against him and entered Canada legally with his own passport – even after Adjudicator William Willoughby gave him a voluntary departure order?

• Why were 11 of Bruce's 12 immigration detention hearings held in secret closed door hearings when the law dictates all such hearings must be open to the public?

• Why were Bruce's witnesses being threatened, and why was not even on of 9 alibi witnesses in Ohio including the wife of a Congressmen contacted to verify Bruce was in Ohio, not Florida as the American government alleged. An Ohio dentist even had records showing a tooth extraction with dated X-Rays.

• Why was Bruce denied his request to take a polygraph examination?

• Why was Bruce censored every time he mentioned government corruption, torture, murder, rapes, or his whistle blowing actitivities?
Here are more details on this situation which were made worse by another one of Bruce's lawyers name William Gilmour, who himself was arrested for child abuse, and then suddenly started to "misplace" evidence! (Really - he told the court "I seem to have misplaced those documents")
http://bruceslawsocietycomplaint.wordpress.com
Now Bruce is exiled in China against his will and people have threatened to kill his family if he tries to return to North America and his wife of 17 years has been terrorized with shootings like this one here at here home in Ontario, Canada.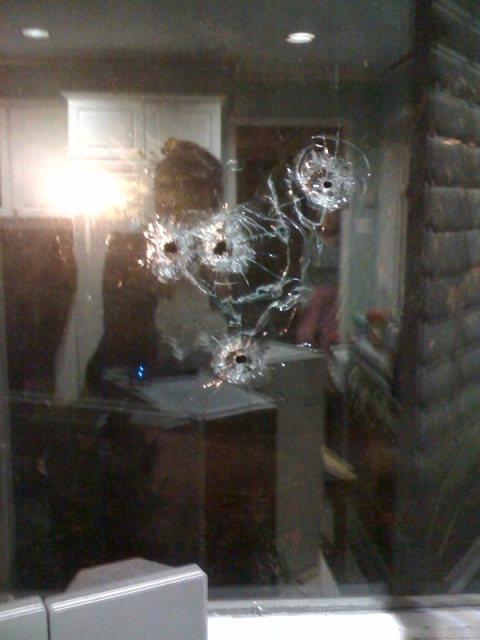 This can all be better explained by reading this which I found online at
http://whyunclesamhatesbruce.blogspot.com
which gives some insight into who is most worried about Bruce becoming a witness and why. He last worked for an American government cut-out company named American Financial Group which had ties to the Bush family and General Noriega.
Maybe this is what his book was about and that is why the feds seized the manuscripts? See here:
https://persecutingwhistleblowerswitham ... s-present/
From this sample chapter it looks more than "interesting". I also found this this letter in the court files from a Canadian newspaper reporter...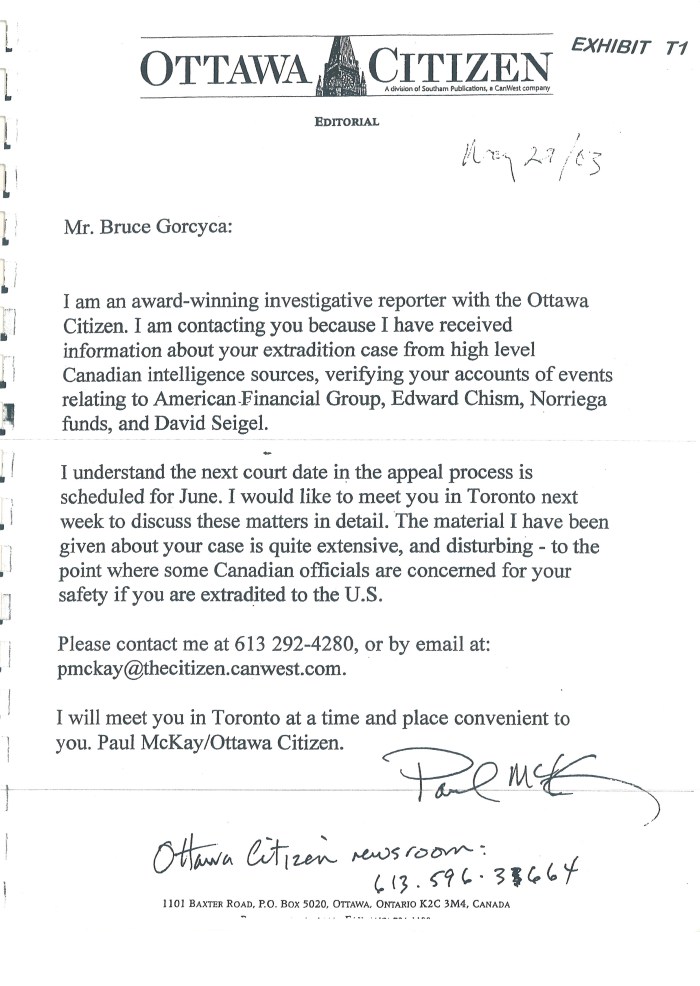 The last anyone heard from Bruce was this open letter he posted online
http://www.opnlttr.com/letter/open-lett ... ian-family
I notice that a lot of people are trying to smear this guy online but most all of it is BS and I was able to search the court records online and find that this is his background info:
* Honorably discharged military veteran (USCG)
* Former fortune 500 executive
* Former U.S. Treasury agent
* Former U.S. Justice Department employee
* Former air traffic controller
* Trilingual
* Registered organ donor
* Volunteer civic leader for 7 years
* Volunteer Salvation Army house parent
* Volunteer AIDS counselor
* PADI Scuba Instructor
* Uni Grad with 3 degrees
* Married 17 years with kids
* Volunteer Little League Coach
* Mississauga Food Bank Volunteer
* Volunteer kids soccer coach
* Volunteer Santa Claus for orphan kids
* Pilot
* Worked undercover for IRS & FBI
This guy needs help and he's not going to get it from anyone in the American government. He has not seen his wife nor young children in 4 years. Is there any American whistle blower who has not been punished by Uncle Sam? I'll sign off by leaving you all with one last court record I found that gives some hint about what government crimes this guy reported to deserve such isolation and 2 murder attempts...